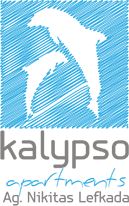 Accommodation in Lefkada
Lefkada, the only Ionian island that can be reached by car from the mainland of Greece, combines uniquely the total green landscape with the magnificent beaches covered with pebbles.
Agios Nikitas is the only seaside village in all the west part of Lefkada surrounded by the Ionian Sea.
Located at the cove of the homonymous bay, it stands aside the unique pinewood "Pefkoulia", whereas the olive trees and cypresses embrace it all over. Agios Nikitas has been characterized as a traditional village, that is why it maintains and highlights all the features of the folk architecture, such as the pale-yellow tiles, the wooden balconies and the picturesque alleys.
In a short distance, you can find some of the most famous beaches of the island, such as "Kathisma", and "Milos" ..